Special Classes and Fun Mini-Camps
Find Special Events, Camps, Masterclasses, and More by clicking here!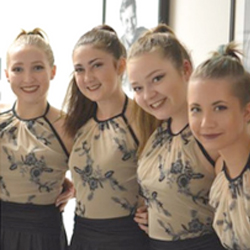 2021-2022 Dance Season
August 2021
AUG 7: Back to Dance Bash

AUG 9: NEW SEASON OF DANCE CLASSES BEGINS!
September 2021
SEP 18: Contemporary Fusion Masterclass

SEP 18: JoJo Jazz Dance Party (Mini-Camp)
SEP 23-30: Express Yourself Week - School/EDMC Spirit Week!
October 2021
OCT 9-10: Guardian Angels Fall Festival Performance (for all Performing Groups)

OCT 25-30: Express Yourself Week- Costume Week!
November 2021
NOV 1-6: Parent Participation/Observation Week

NOV 13: Masterclass for Levels 1-7
NOV 13: Children's Mini Camp/Dance Party
NOV 15-19: Express Yourself Week!
NOV 22-27: Happy Thanksgiving Break *No Classes*
December 2021 
DEC (TBD): Winter Community Performances
DEC 11:

Children's Winter Showcase Performance

DEC 18: Spring Ballet Auditions (for Levels 1-7 & All East County Ballet Conservatory Students)
DEC 27-30: Spring Ballet Rehearsals Begin
DEC 20-JAN 2: Winter Break *No Classes*
January 2022
JAN 3: CLASSES RESUME!

JAN 22: TUTU Fun Run - benefiting Darby's Dancers
February 2022
March 2022
March 17: Is your dancer interested in MORE at Expressions? Join us for an informational meeting about all our special programs that your child can be involved in at the studio! Learn about our Performing Groups, East County Ballet Conservatory, and our Leadership Programs like STAR Leadership Courses, Teaching Assistant Program, and National Honor Society of Dance Arts!
April 2022
April 30th: Performing Groups competition
May 2022
May TBD: Performing Group Competitions
May 20: Performing Groups & East County Ballet Conservatory Gala at Joan Kroc Theater
May 28: Santee Street Fair- local performance opportunity for some classes in preparation for the spring recital
June 2022
JUN 17-18: SPRING RECITAL PERFORMANCE
JUN 20-25: Class Party Week!
JUN 20-25: Performing Group Auditions for 2022-2023 Dance Season
July 2022
SUMMER PROGRAMS, CLASSES, CAMPS
August 2022
Aug 8-13: First Week of the new 2022-2023 Dance Season!